New Computer System for Library
Courtesy Valley News Today, Shenandoah, Iowa – Tess Gruber Nelson, Staff Writer 01/17/2008
The Shenandoah Public Library will be closed Monday, Jan. 21 in order to implement a new computer system that will be more user friendly for all library patrons.
"The company that was running our old system stopped supporting it, so for the past six months we've been looking into options for a new one," said Joy Stortvedt, Technology and Teen Librarian at the Shenandoah Public Library. "The one we chose is called Apollo by a Texas company, Biblionix."
Stortvedt said she, as well as the other librarians, are excited about the features of the new system; including the option of reserving books online.
"Patrons will be able to change their phone number online and all of our standing author lists will be online as well. They'll also be able to make requests on what books the library should purchase. We've also purchased an add-on that will have cover photos of the books as well in the catalog."
The Apollo system will be uploaded Monday but won't be available online until Tuesday morning. The old system will be removed sometime between Saturday after the library closes and when the new system is implemented Monday morning.
"We're not only moving to the new system, but all of us have to learn how to use this new system and it is different than the one we have now. There are changes we'll have to get used to."
Stortvedt asks that patrons have patience while they are learning the new system.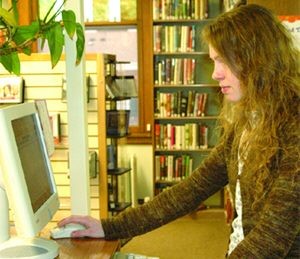 "I hope this new system with all it's additional features will more than make up for the little inconveniences while getting the system up and running."
Stortvedt said there were several reasons for going with the Apollo system besides the additional features.
"One thing we liked about this company is they specialize in small and medium sized libraries. Other companies were more focused toward school systems or larger libraries. This company seemed to know what we needed."
Stortvedt said Biblionix staffers volunteer or work at public libraries; which lead them to be responsive with what is needed in a system and how the system works in the real world.
"It didn't hurt that we got a very good deal on this system as well. It was a way we could use the funds we have responsibly."
Stortvedt said the system is located on the Biblionix server. She said to implement the system they will upload the system and Biblionix will get the system ready to go.
"We've already done a preliminary upload and we've been working with it to make sure it meets what we need and then we'll actually bring it up for use on Monday."
Stortvedt said everything available for check out in the library will be available on the system.
"It even has a neat feature that lets you see what's new in movies or what's hot in books on the catalog. You can even keep lists of books you'd like to read in your account on the system. It features a lot of control over how a patron uses the library and their account."
Stortvedt said she was surprised by the amount of choices on the market for such a system but was more surprised how limited how few of the choices met the needs of the library of Shenandoah's size.
"It was definitely a learning experience for me."
In order to access the new system, once it is in place Tuesday, log on to www.shenandoah.lib.ia.us and locate the library catalog option. Users will need their library card number and phone number to access the system.
"If they don't know their library card number they can come in to find out."
The library will open at its usual time on Tuesday at 10 a.m.